The word tattoo was first used in Europe after the Cook's voyage to Haiti. The word itself has Haiti roots and can be translated as a "sign". But the history of tattoo itself started more than 6000 years ago. At least the most ancient tattoo designs were found in the archeological excavations in Egypt Pyramids. The bodies of pharaohs are more than four thousand years old, but the designs on their skin are still visible. Ancient Egyptians honored the art of tattoo and due to their cultural and economical connections taught other folk to decorate their bodies with tattoo designs. The art of tattoo was found by historians in nearly every epoch, in all centuries studied.
The first tattoo designs made were of course tribal tattoos, but in various cultures their meaning and symbols differed greatly. Men usually made tattoo designs to demonstrate their power, brevity and other traits of character that were necessary and honored in those times. Women more often made tattoo designs as signs of protection. But tattoos not always were just beautiful designs. In ancient times they always had deep, often ritual meaning.

First of all, tattoos often were distinguishing sign of clans and tribes. Everybody who saw such tattoo understood who the person was and from what tribe he/she is. Such tattoos showed the social status of its owner and often such designs could be made only by chiefs and shamans. Many tattoos also had ritual and religious meaning and were part of rituals. Religious tattoo designs were widely spread in Latin America among Maya, Aztecs and other tribes. The designs of Gods, Sun and Moon were extremely popular there. Such tattoos were believed to protect their owners and were made with special rituals and ceremonies.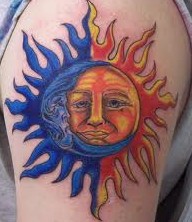 In ancient tribes tattoos also were often made as totems. This tradition is still alive in our days. The person chose the animal, who he wanted to be alike, and whose powers and traits of characters he wanted to acquire. Its picture became a tattoo design, and the animal was thought to be a person's totem. People believed that they got its power and help, making such tattoo. Maybe, that's one of the main reasons, why animal tattoo designs are among the most popular till nowadays.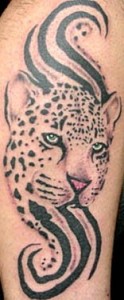 Even today tattoo designs haven't lost its popularity; on the contrary, nowadays tattoos are widely spread all over the world and made by people of all ages, genders and social groups.  But tattoo design is not just a beautiful and fashionable decoration. It has deep symbolic meaning that allows everybody to emphasize his/her individuality. Decorating the body with a tattoo a person always makes an important step on the way to a new, better life. People, who make tattoos, are not only brave enough to reveal their unique personality. Making a tattoo they often influence their life changing it according to their wishes. It was always believed that a tattoo design can influence the person's character and life, that's why it's important to know the meaning of your future tattoo before making it.