Recently tattoo inscriptions became a popular kind of tattoo designs. The reason for this is that sometimes even symbols are not enough to reveal the meaning. In such cases people often choose tattoo inscriptions. They give really a wide choice for fantasy and at the same time will always reveal the exact meaning you've chosen.
In tattoo inscriptions the choice of language is one of the most important questions. Of course, English is the most often used language, not only in the USA but all over the world. But it is not the only possibility. Latin inscriptions are nor less popular today, and they are often used when people want to have a famous quote, aphorism or statement be tattooed on the body.
Runes and Hieroglyphs are also used for inscription tattoos. But their choice is often much harder. All people understand English and Latin can easily be translated using a dictionary. With more ancient languages the task is harder. If a person wants to make a Runic tattoo design she/he needs to know the ancient culture to understand the meaning of the inscription. A hieroglyphic tattoo can also often have ambiguous meaning, that's why if you want to make such tattoo, you surely need a qualified tattoo artist who is aware of the tattoo meanings.
The reasons for choosing inscriptions as tattoo designs can be various. Inscriptions of famous quotes, that became personal mottos, aphorisms and ancient proverbs as well as quotes of famous poets and writers are widely used too. Such quotes usually reveal some important features of people's character and can say a lot about their owners. The well known example is Megan Fox tattoo with famous quote.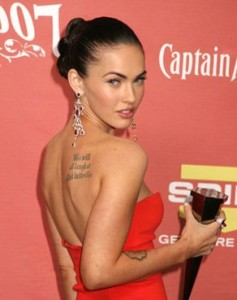 Often such tattoos are made in honor of a loved one. Such inscriptions can also be decorated with heart images, etc. These tattoos made by happy couples are extremely popular nowadays and even many celebrities choose these tattoo designs. The recent examples are Victoria and David Beckham tattoos, made as signs of love.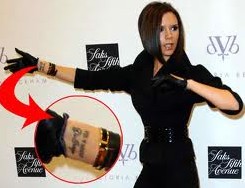 Tattoos with personal and spiritual meaning are also very popular. The exact meaning of such designs often understand only their owners, but usually they are made as sign of protections and for luck. These inscriptions are nearly always made in ancient languages and the good knowledge of culture is crucial for the choice. The famous example of such tattoo is Angelina Jolie back tattoo, made in Khmer language.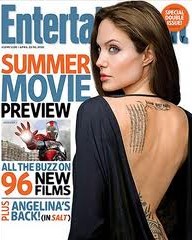 The choice of fonts in inscriptions tattoo designs is also of great importance. Nowadays here you have a really wide choice and can try fonts on before choosing. The fonts determine the style of your tattoo and create the first impression, that's why it is better if they are in harmony with the description meaning and look perfect on the chosen part of body. Usually inscription tattoos are made on arms, shoulders and back. These places are ideal for tattoo making and that's why mostly often chosen.