Snake is among the most complicated animal symbols and probably one of the most ancient in the human history. The first images of snakes carve in cave were first of all symbols of fertility and rain. The snake is present in the myths and legends of nearly all peoples and all times. And this is one of the most important reason of astonishing snakes tattoos popularity.
But the meaning of snake tattoo designs is often ambiguous and depends on many factors. The symbol of snake can mean both protection and destruction and the snakes are depicted differently in various myths and legends. A snake can be both a source of power if it is properly used and at the same time it is potentially very dangerous and can be an emblem of chaotic and destructive powers. And the snake biting its own tale is not only a symbol of eternity but also divine self-sufficiency. Snake tattoo designs are widely spread all over the world but their meaning depends much on culture and the owner of such tattoo.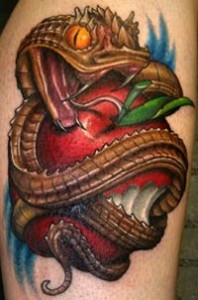 Snake tattoo designs often symbolize power, both natural and supernatural, fertility, rebirth and wisdom. But in Western culture snake is also connected with feminine power and seduction. One of the distinctive features that make snake tattoos so popular is their ability to be easily connected with other images as well as dynamic and ever-changing snakes' forms which an artist can use to emphasize the beauty of human's body. The most attractive are tattoo designs of snakes twining around the arm, thigh or shoulder. Because of this, snake tattoo designs are popular among both men and women.
On the whole, snake tattoos have both positive and negative symbolism. For some people they mean fertility and wisdom and for others are symbols of evil. Snakes are killers and healers at the same time. The big number of various snake tattoo designs and meanings can be explained by a vast variety of myths and legends connected with them.
Most people choose realistic snake images for tattoo designs. The images of black viper and king cobra are probably the most often chosen for snake tattoos. The cobra was often associated with king's power and is chosen by leaders and people who want to gain power. And in India it was connected with Buddha and symbolized protection.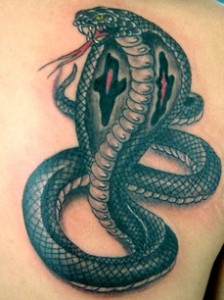 The color of snake tattoos also can differ much – from traditional black to natural snake colors. But the different parts of snake's scale can also be made in different colors, red with black for coral snakes and the various grey and steel colors for rattlesnakes are the most impressive. Arms, shoulders and spine are the favorite places for such tattoos.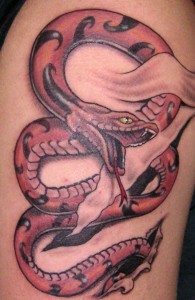 Many snake tattoo designs depict some scenes or mythological characters. A great number of various legend and stories, in which snakes are main characters, give a really wide choice for everybody. Snake tattoos have been popular in all times and the main reason is that you will hardly find many people who are indifferent to snakes: snakes are admired and feared, but they always attract attention and are respected for their power, potential danger and beauty.