Flower tattoos are extremely popular among women and it is not strange: they are very beautiful and look elegant and stylish. But this is not everything – flowers are ancient symbols and flower tattoo designs always have deep symbolizing meaning revealing the character of their owners.
Lotus is one of the most popular flowers used in tattoo designs. It symbolizes fertility, especially in the culture of ancient Egypt, China and Japan. Unique popularity of lotus – a water lily – is based in its peerless beauty and at the same time on the analogy between a perfect form of this flower and divine source of life.
That's why lotus became a symbol of birth and rebirth as well as a source of cosmic life and sun gods. Lotus tattoos can symbolize spiritual growth of a person and an ability of soul to achieve divine perfection.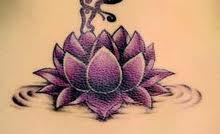 In Egypt lotus that grew from a natural slit and opened its absolutely clean petals towards the sun. It was honored and glorified as the appearance of the sun in the middle of chaos. Blue lily that was honored more than white was an emblem of modesty and purity in Egypt and among Buddhists of China. A wreath made form lotuses on funeral ceremony was a symbol of rebirth.
Lotus also was a sign of rebirth in ancient Greece, Italy and Near Asia. In India lotus is a sacred flower that is associated with spiritual enlightenment. Lotus is a symbol of divine and immortal origin of a human being and practically a synonym of perfectness. That's why lotus tattoo designs are so widely spread.
In India lotus is an attribute of gods of sun and fire and in tattoos lotus is often depicted with fire coming form it. Such lotus tattoo designs symbolize a realization of human internal potential. In China lotus tattoos are thought to symbolize spiritual growth.
Lotus is also an emblem of Buddha and lotus tattoo designs always were especially popular in India, China and Japan. But nowadays lotus tattoos are spread all over the world, because they look beautiful and have symbolic meaning of rebirth and eternal life.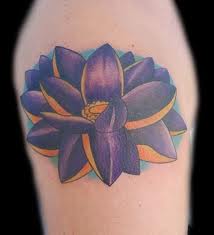 In China lotus tattoo designs are also associated with honesty, firmness, determination, family harmony and prosperity, and especially with the blessing of many children (a boy with a lotus). More than that, lotus was mentioned even in Maya pictures. There this beautiful flower also was used as a symbol of rebirth.
Being a product of interaction of fire and water, lotus symbolizes spirit and matter. Lotus is also associated with continuous circle of existence. Lotus form reminds of a bowl and symbolizes a feminine principle.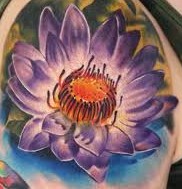 Today lotus tattoo designs have a great popularity among both men and women. Men usually make them to emphasize their spirituality and women choose lotus tattoos to show their femininity and at the same to reveal their character. Lotus tattoo designs are always meaningful and look great and stylish.