Images of animals always were the most popular choice for tattoo designs, because people admired them and often wanted to gain their qualities. And one of the most popular animal tattoo designs is a lion tattoo. And the main reason for this is the meaning of lion tattoo designs.
One of the most widely known meanings of this tattoo is power. People always thought that lion is a king of jungles. That's why this tattoo represents power and might. Lion is the most respected animal in jungles and people who decided to make this tattoo are usually looking for power in their life. Some people also use lion tattoo designs to remind themselves or everybody who sees it that they have power.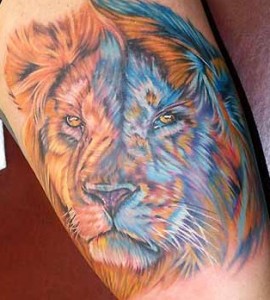 Another meaning of lion tattoo design comes from a coward lion. Everything he wanted in life was courage. After this popular film many people decided to make a lion tattoo design to gain bravery and courage. Such tattoos help people to fight their fears and fell more confident. Lion tattoo designs reveal their inner power and remind them of their might.
Lion tattoo designs came from Africa and Asia where they mean the highest divine power and might. These tattoos are associated with the power of fire and sun. People also believed that this sign is a totem and protects its' owner.
The design of the lion is also important. If a lion sits calmly and majestically, this means that the owner of this tattoo is a self-confident person who is responsible for his might and power. He is respected and doesn't have to be aggressive. This tattoo is very popular among men because it reveals strong will and character of its owner. Lion tattoo designs are also associated wit leadership qualities, because a lion is symbol of king's power.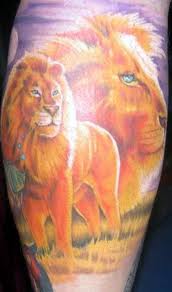 Another popular lion tattoo design is a tattoo of attacking lion. This means ability of the owner to defend oneself. If the lion is depicted snarling and grinning the owner of this tattoo is usually aggressive. But at the same time such tattoo can be made to raise self esteem and to gain some qualities of the depicted animal.

Often a lion tattoo design can be connected with the zodiac sign. If lion is a zodiac sign of a man he usually makes a lion tattoo without doubt.
On the whole lion tattoo designs are extremely popular among men because they are made to show the power and might.
But a tattoo of lioness is a symbol of motherhood and femininity. Tattoo designs of lionesses and young lions are usually made by girls. And an Egyptian tattoo where two lions sit back to back symbolizes harmony and balance in everything.
Lions are present in the heraldic and emblems of a big number of peoples. There they usually represent firmness, calmness and strength. Lion tattoo designs always look majestic and great and you surely would not be wrong if you decide to make a lion tattoo design.