Japanese tattoo designs are characterized not only by original technique and cherished traditions, but also by wonderful and exotic images. This is the originality of designs and great craftsmanship of tattoo artists that made Japanese tattoos so popular all over the world.
In Japan itself since the nineteenth century and till the middle of twentieth that tattoos were banned. Of course it stopped the development of Japan tattoo art, but at the same time saved all traditions and canons unchanged. Today Japanese tattoos are made all over the world as well as in Japan. All Japanese tattoo designs have some peculiarities that make them so original and attractive. The emphasis is usually made on the outer par of the pattern and more attention is paid to details. In Japanese tattoos a main pattern, as a rule, has formal character and plays a role of background for small details that reveal the main meaning of the tattoo. Tattoos in Japan style are asymmetrical, but this asymmetry often looks more harmonic and attractive then ideal symmetry of Maori tattoos or chaotic asymmetry of some European artists.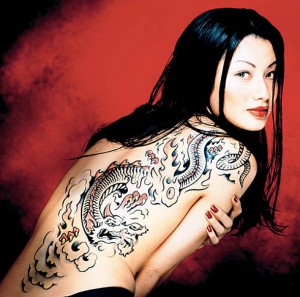 The images for tattoos are extremely diverse, but they can be separated into four main categories: mythology, religion, animals and plants. Ancient legends and myths about brave heroes that were the source of inspiration for writers and artists also influence Japanese tattoo designs. In Japan people thought that a tattoo design doesn't reveal the inner world of its owner, a tattoo forms it. It was believed that a tattoo can give a person some traits of character: courage, endurance, power, etc.
Here are the most popular Japanese tattoo designs: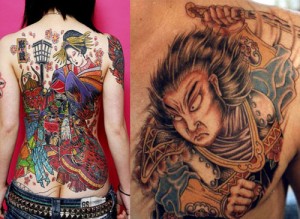 Koi Fish tattoos are among the oldest symbols of courage and masculinity due to fire teams from Edu. The other explanation of their popularity is that Koi fishes swim, overcoming the flow of the river, and that's why these tattoo designs are also a signs of stoic.
Dragon tattoo designs are the most polar Japanese tattoos and dragon itself is thought to be a king of animals in Japan. The quantity of variant of this mythological creature in Japan legends is really great. But they all symbolize, power, authority and might. More than that, dragon is a special sign that combines in itself antagonistic elements: fire and water, reveals the eternal struggle and unity of the opposites.
Flower tattoos are also popular. In Japan all flowers have deep symbolic meaning. The flower of peony symbolizes money and luck in all beginnings. A chrysanthemum, no matter how strange it may seem for Europeans, is a symbol of perseverance and determination. This beautiful flower is a sign of Japan Imperial House. A flower of sakura is a traditional Japanese design. It reveals the fragility of life and outgoing.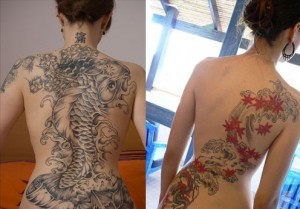 Religious tattoos are also popular in Japan. Buddhist's prayers and images of gods are popular motives in Japanese tattoo designs.
Japanese tattoos are usually big and bright colors are used for most of designs. Today Japanese tattoos are well known far from Japan and are among the most beautiful in the world.