Nowadays tattoos become more and more popular and many famous people make tattoo designs as signs of self-expression. Tattoos were always popular among men, but today famous women also often make tattoo designs. More than that, celebrities are proud of their tattoos and demonstrate them at every occasion.
Victoria Beckham has five tattoos. She made her first tattoo design in 2001 – three eight-pointed stars – symbolizing her, her husband and their sun on her lower back.  Now, when Victoria has three sons, two more stars appeared. She also has an inscription in Hebrew "I am my beloved's and my beloved is mine, who browses among the lilies" from the Song of Songs. The same tattoo decorates the left hand of her husband David Beckham. The matching tattoos were made on the seventh anniversary of their wedding in 2006. On the left wrist Victoria has a tattoo with her husband initials DB made in Italic type and this tattoo is also matching – David has a tattoo "Victoria" on his left wrist.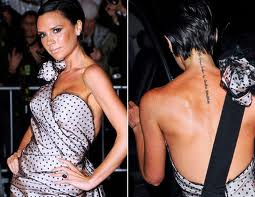 Here Pink is a record holder – she has a collection of a least twenty five tattoos. She uses her tattoo designs as memos of her past and thinks that they reveal the main stages of her life. But she is against tattoos with names and hasn't made a tattoo with her husband's name, notwithstanding that he had made three in her honor. Pink's tattoo designs are rather original and cover the most of her body. Pink is fond of Japanese culture, that's why she has a number of tattoos with hieroglyphs: she has a symbol of luck and happiness on her left ankle and a symbol of infinity on her right. She also has hieroglyphic tattoo designs with meaning of power and will to live. When her mother celebrated her fifty fifth birthday, Pink made a tattoo with hieroglyph mother. She also has a tattoo design of army counters with the names of her father and brother on her right ankle. Another famous Pink's tattoo is an inscription "What Goes Around Comer Around"around her right wrist. Pink believes in fortune and this tattoo reminds her to be attentive and careful. The famous singer also has a big dragon tattoo design on her left leg. It is made in Eastern style and is one of the most popular tattoos nowadays. Pink made it when she was in Australia in 2002. The star also has a tattoo design of angel and a star on her back.

Christina Ricci is also fond of tattoos: she already has eight tattoo designs. Christina has a lion tattoo on her back and it is Aslan – the famous lion from Chronicles of Narnia. She made this tattoo in honor of her favorite book. Earlier Cristina had a bat tattoo design that is now replaced by praying hands. In 2003 Cristina was present at Venice Film Festival at the presentation of her new film "Anything Else" and in its honor made a fairy tattoo. She also has a mermaid tattoo on her right hand and the mermaid looks like Cristina herself.  The last her tattoo was made on the hip and it is an inscription "Move or bleed"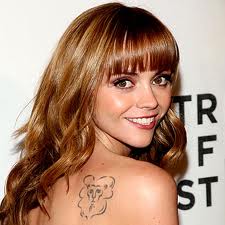 On the whole today nearly every star has a tattoo design or designs. They are original and meaningful and attract a lot of attention.