Back tattoo designs are very popular nowadays. Earlier tattoos on back were made only by men, but today girls also like such tattoo designs. Back tattoos have many advantages, and one of the most important is that back is the biggest part of human body, that's why the size of the back tattoo is not limited. On the whole there are three main variants of back tattoos: Upper back tattoos, lower back and tattoo designs made on the whole back.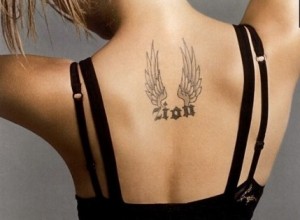 Upper back tattoo designs can differ in size and design: from small elegant images to great impressive pieces of art. Such back tattoos are often covered with clothes and this makes them the perfect decision for those who can not offer to wear big noticeable tattoos because of their work or career.
Lower back tattoos are extremely popular among women. Such tattoo designs look very attractive and emphasize the girls' beauty. These tattoos also differ in size and due to their incredible popularity there is a great choice of images. The other advantage of lower back tattoos is that there is enough place for a fine design and tattoo of nearly any style will look great on lower back, thus making your choice wider:  Celtic, tribal and flower tattoos are the most popular choices.
Full back tattoos were always popular, because they look astonishing and attract attention. Of course such big tattoo designs are usually made by men, but nowadays there is no rule without exceptions: many girls are also found of such tattoos. Their main advantage is that big size allows to create a real work of arts on the back. The main difficulty with such tattoo designs is that they are usually made in a number of stages, and you have tit for a couple of hours each time. So, if you choose a full back tattoo, you have to be ready to spend much time and have patience but the result is really worth it.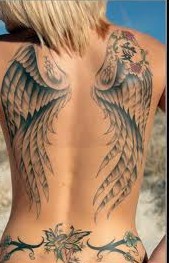 The choice of designs for back tattoos is great because they give a lot of space for your fantasy. Among the most popular are dragon tattoo designs of all styles, but it's better to chose carefully, because they ca have a number of different meanings. Angel tattoos are also among the most often made back designs. But today probably the most popular trend is wing tattoo designs on the back. Such tattoos look wonderful because they resemble real wings on your back. And here is also a big variety of choices for you. Your wing tattoo can look like bird's wings, or like angels, some prefer bat's wings and others dragonfly or just fantasy design created by themselves or a favorite artist.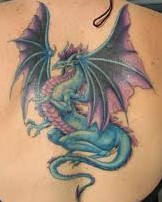 The other advantage of back tattoos is that even when you start from a small design, you can always make it bigger, because there is enough space for your new ideas.  On the whole back tattoo designs are wonderful choice, but you have to select a design carefully, found out its meaning and choose something that will not only look beautiful, but will reveal your personality and be in harmony with you.